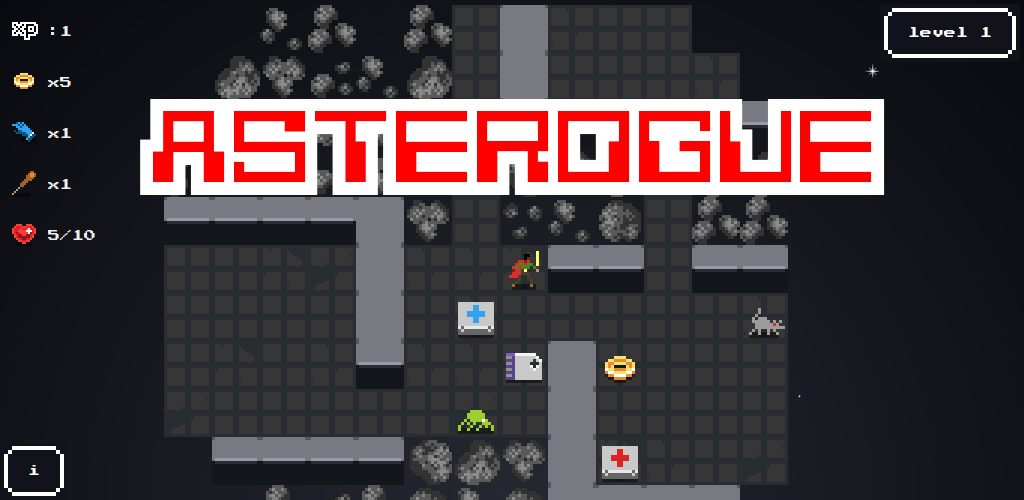 Asterogue
You discover a hollow asteroid filled with procedurally generated mines, facilities, alien creatures, and space-loot.
Available for Windows, Linux and Android.

It's a fast, light, minimal, roguelike* that is easy to pick up and put down, with sci fi pixel aesthetics and juicy game-feel. A turn-based "coffeebreak" roguelike RPG game with pixel art graphics and random procedurally generated levels. Balance futuristic hand weapons, armour, chemicals, nanotech, medkits and food as you battle weird creatures from outer space.
* "Roguelike is a subgenre of RPG games that are characterized by random level generation, turn-based gameplay, tile-based graphics, and permanent death of the player-character."
-- Wikipedia
✓ Procedurally generated.
✓ Gorgeous 8-bit pixel art by Oryx.
✓ Descend through 17 unique and challenging levels.
✓ Battle futuristic aliens to gain XP and loot.
✓ Drink chem beakers, use nanotech, collect weapons to level up.
✓ Carefully tuned controls for keyboard and mobile devices.
✓ Authentic roguelike permadeath mechanic.
Defining characteristics
↠ Roguelike. Not a roguelite. Inspired by the original Rogue.
↠ Minimal. Not a "kitchen sink" roguelike.
↠ Juicy. Lots of game-feel and animation.
↠ Simple controls. You can play "without having to overcome super convoluted controls with a million key commands."
↠ Coffeebreak playable. Aims to be "just big enough to make victories feel fun and worth it but short enough that losses don't feel like you've thrown away your afternoon."

About me
I'm a solo developer and I've wanted to make a roguelike since I was a kid. Releasing this I'm fulfilling my dream! I grew up on Nethack and Rogue and lately I've been inspired by Patient Rogue by Watabou. You can find me on Twitter.

Sound track
Get the original sound track, a chiptune rendition of Holst's The Planets, sliced and diced.

Dev logs
This game is hand crafted with Roguelike Browser Boilerplate.
Purchase
In order to download this game you must purchase it at or above the minimum price of $3 USD. You will get access to the following files:
asterogue-windows.zip
108 MB
asterogue-linux.tar.gz
104 MB
Also available on

Comments
Log in with itch.io to leave a comment.
Fail to pay for it with paypal...wonder why :(
Your game looks so cool, loved the art style! Great job! Are you interested in a co-op bundle? I recently finished an update for my game ([DIS] Assemble) and we are making a pre black friday bundle with another art asset pack
Sounds good. What do I do?
Heyy, sorry for the wait! I'm glad to hear that you liked the bundle idea, we are assembling a sci-fi bundle, so your game fits the theme perfectly! Anyways, here is my discord : roguetaver#7994 , DM me there so that we can talk about the details :)
The bundle is ready to be launched, we only need you to accept the invite:)